FSLAB passes second reading
The Financial Services Legislation Amendment Bill (FSLAB) has passed its second reading with unanimous support. This is a key step towards its enactment expected later this year.
A link to the Bill in its current form is available here.
Who needs to read it?  Why?
All businesses involved in the provision of financial advice, financial services or financial products.
The Bill will establish a new regulatory regime for financial advice and financial advisers in New Zealand, and will amend requirements for registration on the Financial Service Providers Register (the FSPR) to prevent its misuse. The Bill is based upon a statutory review of the existing regulatory regime completed in 2016.
What does it cover?
The Bill, when enforced, will create a new framework for giving financial advice by amending the Financial Markets Conduct Act 2013 and the Financial Service Providers (Registration and Dispute Resolution) Act 2008 and repealing the Financial Advisers Act 2008.
Broadly, the Bill will change the existing financial advice and financial services requirements by:
 Allowing for the provision of online advice (robo-advice).
Expanding the minimum professional standards on giving financial advice to retail clients.
Requiring all who give regulated financial advice to comply with standards of ethical behaviour, conduct, and client care.
Requiring persons giving regulated financial advice to give priority to a client's interests.
Limiting who can give regulated financial advice.
Simplifying the regime and its terminology.
Amending the requirements to be registered on the Financial Service Providers Register.
Our view
See what we have previously said about FSLAB and the Select Committee Report here.
The timetable for the new regime to come into force remains uncertain. Our best estimate is as follows: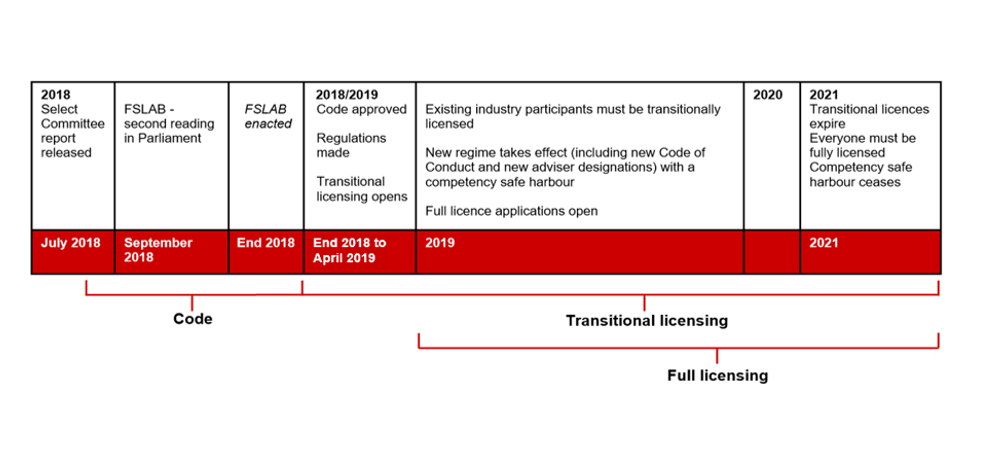 On that basis, time is short and businesses affected will need to have their internal projections underway before the Bill is enacted.
What next
FLSAB now moves to Committee of the whole House for consideration by Parliament, where we can expect members to shed more light on the complexities and details of the Bill. Following that, the Bill will have its third reading and receive Royal assent.
Some provisions will come into force immediately, but the main changes will take effect on a later date to be specified by regulators (expected to be in mid-2019). Parts of the Act not yet brought into the force will come into force on 1 May 2020.
There is a transition period for some aspects of the regime stretching over till 2021.
If you have any questions in relation to changes under FSLAB or the implications of these changes on your business, please contact one of our experts.
Sorry we couldn't find any results relating to your query.