Greater certainty on the new financial advice regime
The Ministry of Business, Innovation and Employment (MBIE) published updated factsheets for the new financial advice regime, being brought in by the Financial Services Legislation Amendment Bill (FSLAB) and latest best estimates of timeframes for the new regime.
A link to the update is available here.
Who needs to read it? 
All businesses involved in the provision of financial advice, financial services or financial products. With greater certainty on the new regime, businesses will be able to continue planning and developing strategies on how to meet the requirements of the new regime.
What does it cover?
The factsheet provides an overview of the new regime and the key developments expected over the coming months. The key points to note are:
The FSLAB is currently before Parliament, it will soon progress to the Committee of the Whole House and Third Reading. It is expected to be enacted by the first quarter of next year.
A new Code of Conduct for Financial Advice (Code) is being developed by an independent Code Working Group (CWG). The CWG will be consulting on a draft Code within the next two months and is expected to be finalised in early to mid-2019.
The Financial Markets Authority is designing the licensing process and preparing relevant guidance.
Supporting regulations for the new regime are being developed by MBIE. It will set out new disclosure requirements and detailed registration requirements.
MBIE will be consulting on draft proposals to set licensing fees and levies that will apply in the new regime soon (later this year).
MBIE has updated the indicative timeframes for the new regime. This timing pushes back implementation of the new regime by 3-6 months, from the previously proposed timeframes. Exact dates will be determined once the FSLAB is passed and the Code is approved. A copy of MBIE's timeline is set out below.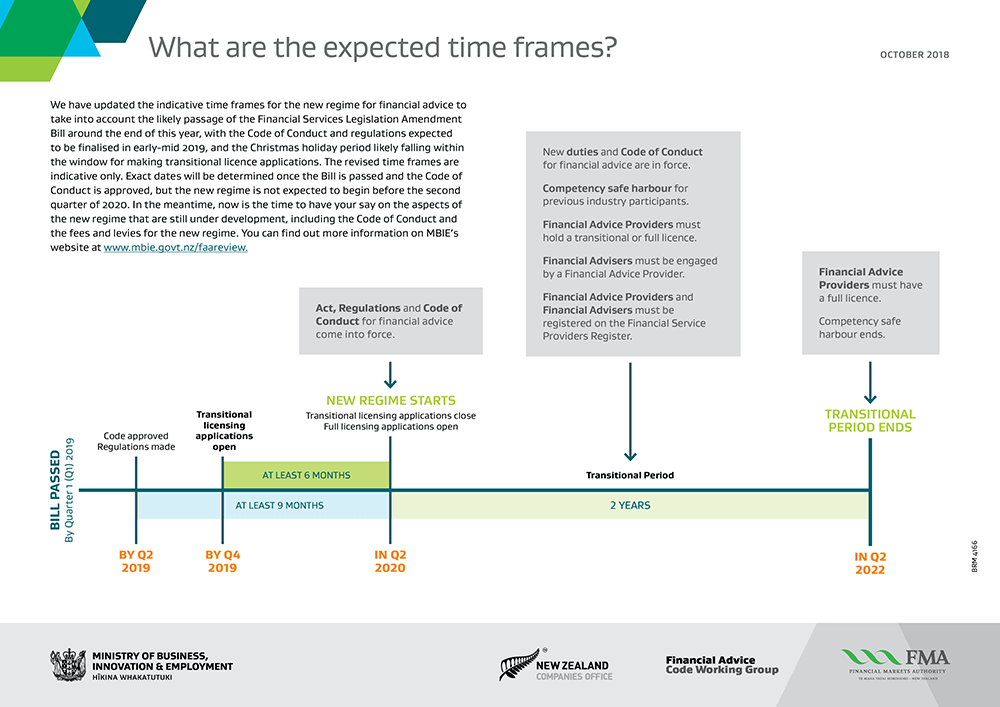 Our view
Pushing back the timeframe of the new regime by 3-6 months is a pragmatic response to the difficulties involved in fundamentally overhauling New Zealand's financial advice regime. Financial services businesses will welcome this additional breathing space, but the timing for many will remain tight, particularly those large organisations with more complicated distribution and advice arrangements. Businesses should continue at pace in planning for the new regime.
We have provided various updates and views on the new regime, see what we said about the FSLAB Select Committee report here and the draft Code here.
What next
If you have any questions in relation to changes under the new regime or are considering how these changes will affect your business, please contact one of our experts.
Sorry we couldn't find any results relating to your query.