View from Tāne Mahuta, an interview with Adrian Orr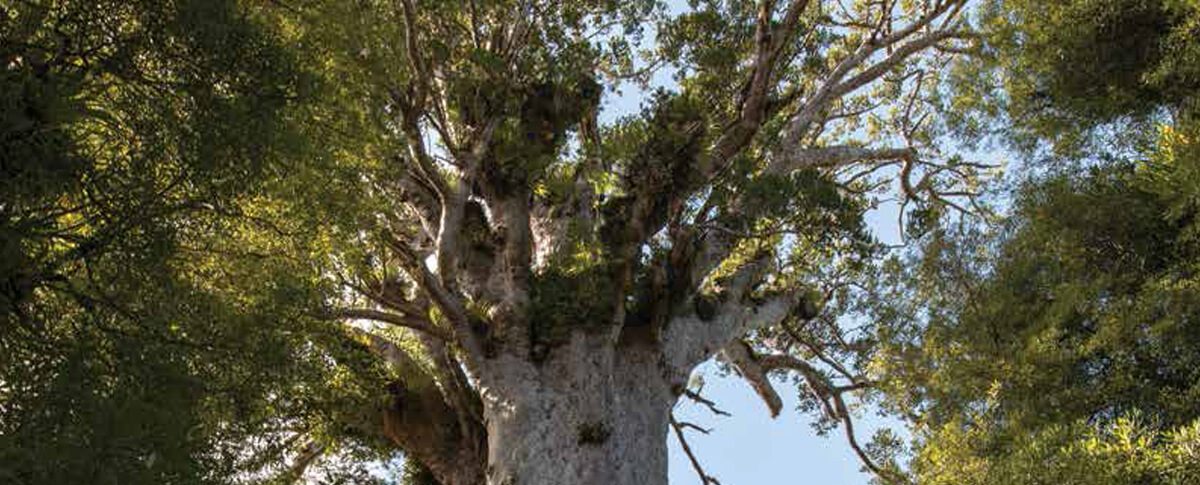 Adrian Orr has been Governor of the Reserve Bank of New Zealand for six months.
Sitting as he sees it in the branches of Tāne Mhuta, looking out across the forest of the New Zealand financial and business world, MEttle sought his views – always wide-ranging, often unexpected, and in places strong – on topics ranging from regulatory challenges to the role of the banks and the dangers of short-termism, plus the much broader role of the Reserve Bank and business as kaitiaki (guardians) of long-term capital investment in this country.
Saying first that it is exciting to be back at the Reserve Bank, Adrian Orr says that he has returned at a time when no stone is being left unturned in the bank's efforts to address the huge variety of challenges that sit ahead of it.
"This role is not about sitting and wondering what to do with the official cash rate," he says. "I think about the Reserve Bank as the Tāne Mahuta of the New Zealand financial system. It's growing to let the sunshine in; the roots are our legislation, which is being revised and reviewed at the moment.
"Our very roots are being inspected, and that brings challenges around future structures. We're making monetary policy decisions, and decisions around how we resource and manage our prudential supervision role too."
Orr says that the legislation is being challenged, particularly the payment and settlements trunk of the tree.
"The trunk allows money to flow, and we're upgrading and revising across the industry with regard to FinTech challenges, and upgrading and reinvesting in our own payments settlements systems.
Day job being challenged
"The money itself, our day job of printing and circulating the money, is also being challenged, with the ecommerce and electronic options that are available," he says. "We're doing a lot of work on the idea of paper or plastic currency, versus other forms of Central Bank exchange, so we're doing a lot of research and practical work on upgrading our own currency models to get banks involved in terms of how they distribute currency into the future."
With all of that being wide open, Orr says the part that has made the headlines recently is the Reserve Bank's own prudential regulatory challenges and its perception by the regulated industries.
"We came under a lot of criticism for not being responsive enough to the big end of town, so we are working on our own service provision so that the bank upholds what has always been its strength, its operational independence." he says. "It's also about how we work more closely with our APRA colleagues, while keeping the distinct New Zealand flavour.
"Not all banks are Australian, and all banks that operate here operate within New Zealand law. So, there is some big work going on here on capital adequacy, ability to be standalone capable if needed, and our lender of last resort and depositor protection roles. It's a full hand to play – it's exciting."
Separation and independence: The big regulatory challenges
When considering the challenges involved in the interface between foreign banking systems and New Zealand's system, Orr says "It's like Papatūānuku and Ranginui who are always separate. We have to work hard on managing that parentage; so that banks can effectively recognise both their home and host regulators requirements.
He adds that the challenges around FinTech and just what that does or does not mean for the regulation of the financial system in the future are big, in particular the ability to retain monetary policy independence.
"If you sway or give in to the political whims of the day, it is a real challenge for a central bank. You've got to try to make sure that you have the independence to set policy." Adrian Orr, Reserve Bank of New Zealand
"It's a real challenge for a central bank not to give in to the political whims of the day. So when your legislation is open you've got to try to make sure, at the very least, certain things are staunchly preserved and that's the independence to set policy."
Balancing soundness and appetite for risk
Furthering the Tāne Mahuta analogy, the way that Orr sees it is the banks – the big branches – have to be grafted onto the trunk because they want to use New Zealand money, and operate in this country.
"Some of the banks are so large that it is a disaster if they fail. They must be stand-alone capable, and we have to have the confidence we can keep the whole system going. This is a perennial challenge.
"We're always fighting the argument between what is sound and how can we ensure these branches are strong, versus efficiency: 'why can't we use our systems offshore?', or 'why can't we run lighter?' It's a continuous challenge."
Hoping that the challenge will be partially resolved by having a risk appetite statement from the government of the day, he says that in the absence of being able to say 'what risks are you prepared to wear?', the bank will "forever be accused of being either too tough, too prudentially concerned, too lax, or too efficiency concerned. Getting that balance right between soundness and efficiency really does need a wider risk appetite statement."
Allowing necessary sunlight into the system
The last bit of the analogy is that Tāne Mahuta must allow the wider garden to grow – it can't be overshadowed. At the moment the banks – the branches – are pretty big and thick, and there's not a lot growing underneath Tāne Mahuta.
"It's a real, perennial challenge. I was away from the bank for eleven years and I came back to see that little has changed in the wider New Zealand financial garden. There are still very thin listed capital markets, very thin domestic bond issuance, the non-bank deposit taking groups are tiny in comparison to the big four banks, and the smaller banks are struggling to compete against the big ones.
"Basically, the New Zealand system is dominated by debt provision and banking with a pretty thin wider capital market. We have to really challenge ourselves as to why that is the case. As long as the current situation remains, the New Zealand economy will be very capital shallow and low in productivity."
"There are still very thin listed capital markets, very thin domestic bond issuance, the non-bank deposit taking groups are tiny, and the smaller banks are struggling to compete against the big ones." Adrian Orr, Reserve Bank of New Zealand
Need to lengthen capital horizons to be kaitiaki
To tackle these challenges, Orr says that a fundamental change in perspective is required, and one underpinned by his own heritage and cultural outlook.
"I am heavily influenced by the kaitiaki, caretaker, concept rather than assuming we are an outright owner of activity. For me it's all about horizon and time perspective, which is very much a cultural thing.
"With the caretaker concept you tend to be more intergenerational and longer-term in thinking. For a lot of my career here and at the NZ Super Fund, it has been about focusing capital on the long term."
The key, he says, is that if you can get to a long-term horizon and long-term mind set, a lot of the ongoing challenges disappear and become opportunities. The enemy of this track is short-termism.
"Globally we keep getting driven down more and more short-termism. It's one natural outcome of a capitalist system with short-term profit and reporting incentive structures, combined with market failures that lead to under investment. We end up being concerned about short-term profit targets, rather than long-term sustainable returns.
"When you think about pollution and carbon pricing, if you're looking far enough ahead they are all part of your role as kaitiaki or guardian of that capital. If you get that horizon right it will make you think more about social cohesion and environmental sustainability, as well as profitability."
We have to get on with it
He says that in New Zealand we have most to gain and the least to lose compared to other countries by being more long-term.
"Our country isn't dependent on fossil fuels. We are dependent though on foreign capital, we are dependent on having a great global reputation of being sustainable and inclusive. We have a small population, we are isolated, so we can do all of this stuff.
"We have a really good opportunity to do it, and it is starting to shine through in the conversations we're prepared to have. Responsible investing was just this thing done by hairy-armpitted people 15 years ago, and now it's just what the world is actually doing, so New Zealand has to hurry up and keep up with it."
Because of our history, he says, we can leapfrog other countries and maximise the future opportunities in front of us.
"We have gone through the period of coming to terms with our history. We can always do better in this area, but we are now in a position of getting on with it.
"If social cohesion can be part of what we do in the future, then what an amazing place we would be – if we had good economic growth, social cohesion and environmental sustainability, then I imagine a lot of people would want to come and live with us."
We have to keep pace with the rest of the world
Saying that he has been challenging businesses in their view of themselves as 'doing well', Orr says that the rest of the world is moving on very, very quickly with concepts of investing in social cohesion and progress.
"They don't have nice words for it like we do, but I have been working with them focusing capital – there are trillions of dollars of capital going into exactly thinking hard how to better focus capitalism on the longer term.
"Likewise, the UN Sustainable Development Goals, the Principles for Responsible Investing and Carbon Disclosure Projects. All of which will impact on our markets, production, labour movements and so on. In an ideal situation, firms have a sufficient horizon where they are cognisant of their impacts on their community, labour force, customers, and culture. If embraced in a positive fashion there is a sustainable business model that will see the region lead the world.
These are all very old and established now, and very few New Zealand firms seem to be aware of it. When I send companies to these websites, they get a hell of a fright at what their competitors are doing, so they are having to move rapidly in that space."
A comfortable economy, albeit in transition and reluctant to invest
Switching gears, conversation turns to the state of the New Zealand economy, which Orr describes as "comfortable and in transition", and a necessary one that generally happens when an economy's prices are working well.
Giving more detail, he adds that we have come through a period of population and consumption and asset price-driven growth, and we are transitioning into more of an earnings growth period ahead.
"New Zealand companies are getting a hell of a fright at what their competitors are doing, so they are having to move rapidly." Adrian Orr, Reserve Bank of New Zealand
"Earning is never as much fun as consumption, so it feels harder, but it is also a necessary part of ongoing consumption. The challenge I get nervous about is that economic growth has obviously slowed, which is not surprising given where it has come from, but we see plenty of reason for economic growth to pick up again from here."
He says that both the terms of trade and the exchange rate are very supportive of growth, and the Government is investing and spending, but it's the business sector that seems to have the question mark about whether they will or will not invest.
"That is the third and critical leg to sustainable growth. We seem to be incredibly reluctant investors. We like to pay dividends, we like to borrow, we don't like to retain earnings and we don't like to reinvest. That's reflected right through our history of being a capital importer and very low capital per-person producers.
"Investment is needed in both the resources and capabilities of our people, and also in machinery and equipment. If you can't find the labour, then you're going to have to find the machines."
A positive outlook – despite the doomsayers
Described by economists as a bit more dovish in outlook than his predecessor, what is Orr's view of the current pessimism showing through in business confidence surveys?
"What lies beneath business confidence surveys remains a mystery to all," he says. "What we find is that 'own investment' intentions and 'own activity' outlooks are far better measures of what's happening on the street at any given time. They are a bit more positive, if a little bit down from where they were."
In saying that business sentiment in itself doesn't give him great cause for concern, he does add that "all economic models are wrong, although some are useful".
Why are they wrong? "Because they don't capture fads, fashions, and business psyche. It's humans that determine the business cycle: without doubt they get themselves into exuberance and overshoot, and they get into dark, miserable places and undershoot."
No better time for long-term investment
The real opportunity he says is this. "If you look over the medium term, back to the horizon, I just can't see a better period for long term, sustainable investment in New Zealand. We have already missed great opportunities over the last 20 years or so, when we had a fixation on reducing debt and not investing in infrastructure. Now we're in a position where it is critical, and we need to get on with it.
"We're starting this from a position of very low unemployment, so that means capital equipment is needed, as well as longer-term strategies around attracting, retaining and motivating good people to work.
"There are pockets of unemployment where it shouldn't be, particularly among Māori and Pasifika, and they happen to be unemployed exactly in the places where labour constraints are the most obvious. So you don't have to be a rocket scientist to work out what you need. Go and train, go and employ, go and invest."
Is New Zealand thinking far enough ahead?
In terms of the near-term trade outlook, Orr is comfortable. "World economic growth is still very robust, just south of 4%, and forecasts are saying that at worst 3.5% over the next couple of years, so that's positive." He says that we can get worried about headlines around trade wars, but they would have to get very bad to impact New Zealand directly. "Most of our exports are either directly consumed or timber products etc… for construction, and trade wars aren't going to be hitting that too hard unless incomes fall. That's a big step from here."
His main concern is for the longer term. "You are seeing massive challenges for environmental sustainability going on, and that could lead to significant regulatory imposts and businesses having to change incredibly rapidly. Is New Zealand thinking hard enough and prepared enough for that?
"The pressures driven by environmental challenges and urbanisation are rapidly happening. Domestically we aren't investing enough for it and whether we are thinking hard enough longer term about how to position our offerings – our tourism, our exports – into a very different world economy. There's a significant challenge for New Zealand if we don't get invested and don't get connected.
"Globally, economic power has rapidly shifted. The US will always remain a good market, but in terms of One Belt One Road [China's development strategy] and how we are connected to that region of the world, we have to work very, very hard to ensure we understand what our role is in that space."
Business needs to step up
In closing, Orr describes the business sector as "the weakest link at the moment in the country", and says that collective effort is needed to make necessary change.
"I'm really pleased to see collective effort happening now in the construction industry, where they are talking about how we keep getting ourselves in these positions. The lowest cost provider doesn't mean the best long-term owner, so having proper conversations with Government is important."
Orr would also like to see the banking system and banks working together more proactively on things they could change, that they could be involved in.
"The New Zealand Bankers Association has spent too much time just trying to defend or avoid, rather than be proactive. It could be playing a much bigger role being proactive around conduct and culture, and working on areas that are capital poor, such as collective and cooperatively owned businesses, thinking how they could act differently."
And he would like to see banks pick a couple of community challenges.
"We've got these loan shark trucks driving around south Auckland. What are the roles the banks are playing in that? They say 'it's not us', but they are the ones funding them, so how can you get in there with financial literacy and be game changers in these types of activities? I was so pleased to see business get together in the leadership coalition for carbon reduction, and I'd like to see more of that type of work and more long-term thinking."
Be more long term, lift your horizons, look after your branches, invest in growth and stand strong. Just like Tāne Mahuta.
Download MEttle Ten
MEttle, a collection of stories and interviews with influential New Zealand business leaders, curated by MinterEllisonRuddWatts.
Sorry we couldn't find any results relating to your query.